Army Entertainment
British women were in short supply in Burma during the four year Campaign in Burma. They were in large demand to dance with and provide company for the soldiers and to raise morale, which they did with great enthusiasm and creativity as you can read in these extracts from CHINTHE WOMEN.
Betty Donaldson joined the WAS(B) in 1945, newly widowed, "I was on the evening shift when we had to provide food and dancing skills. The evening was in full swing. I was hot and tired and my feet were sore because all the soldiers danced in their fighting boots. I leant over and invited one young lad to come and dance. He pointed down to the floor. He had no legs, nothing, nothing at all.
These extracts are from Chinthe Women, published in June 2001.
'Bubbles' Clayton wrote home in 1945,
"We spend the night under parachute tents. Our first days were a whirl. We opened the afternoon of our arrival and have been open twice a day every day. Last night's dance was a success, some ENSA lads (army entertainment troupe) turned up and gave a cabaret, and the highlight of the evening was doing the Palais Glide."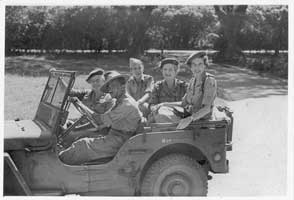 Majorie Ussher wrote home faithfully every week,

"We're going out somewhere every night. Tomorrow, Monday, I am going to Signals' Mess (dance) - Tuesday - cocktail dance at the Club with Vernon Scopes - Wed. cinema at 6pm with Brigid Wheelan then on to BOR's dance given by Army Fire Service. Thursday - Red Cross Dance. Friday party at Ordnance Mess - Saturday dance at club. This all on top of a hard day's work!"